Controlled explosions in west Belfast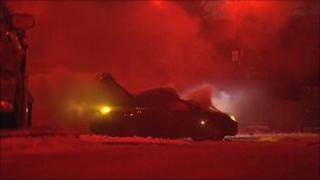 Three controlled explosions were carried out by army bomb experts examining a stolen car in west Belfast on Friday night.
The vehicle was abandoned on the Benraw Road, which was then closed between Shanlieve Road and Comm-dagh Drive.
The car was stolen from the County Tyrone area on Friday.
Police said nothing was found in the vehicle which has since been removed for examination.
Three homes were evacuated because of the alert. Residents at several other houses were asked to move to the rear of their properties.