McCartan 'regrets' 2012 Olympic fallout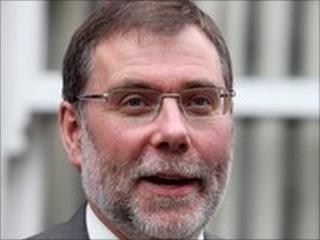 The Chief Executive of Sport NI said he "regrets" making negative comments about Northern Ireland's image.
Eamonn McCartan was criticised by the Sports Minister for claiming that Northern had failed to attract teams for London 2012 training camps because a recent spate of violence here.
After a meeting with Nelson McCausland, Mr McCartan acknowledged his comments were "unhelpful".
He added: "I regret the interview as broadcast.
"And I regret any harm these comments may have caused to the image of Northern Ireland.
"I have worked diligently to promote a positive image of Northern Ireland over many years and would never willingly act to the contrary.
"I affirm Sport NI's commitment to work with the Department and others to attract Olympic and Paralympic teams to Pre-Games Training Camps here in Northern Ireland.
"I will now progress our detailed action plan including timescales and a communication plan for taking forward the important work of attracting international teams to Northern Ireland."
The Sports Minister welcomed Mr McCartan's admission of regret.
Mr McCausland added: "The Northern Ireland Executive are working hard to build the image of Northern Ireland to potential international visitors and investors.
"The fact that we have been successful in attracting the staging of World Police and Fire Games here in 2013 is testament of that good work.
"Government entrusts its Arms Length Bodies, such as Sport NI, to act as ambassadors for Northern Ireland."
Twenty-seven venues in Northern Ireland are included on a list of suitable sites for Olympic and Paralympic training camps.
Fifty-one teams have so far registered at other camps across the UK.
Earlier this week Mr McCartan said people were reluctant to take a risk by travelling to Northern Ireland.
He added: "It wasn't that long ago that we had two young soldiers killed, we had a policeman killed and recently there was a report identifying the number of dissident issues that have occurred within the last year.
"People train their whole lives for this one performance in the Olympics - and they will take a safe and secure route that will get them to their best performance in London."