Heavy snow causes travel chaos in Northern Ireland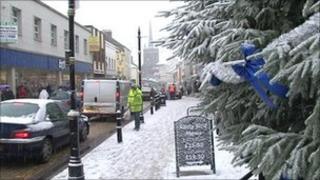 Heavy snow has continued to cause significant traffic problems across Northern Ireland.
Belfast International Airport is due to open again at 2300 BST while City of Derry airport re-opened at 1800 GMT.
George Best Belfast City Airport remained open but several flights were delayed.
More than 400 schools will close on Tuesday due to the weather. Roads Service has said they are working to hard to keep the main routes open.
The Northern Ireland Ambulance Service said that in the interests of patient safety it had cancelled "most outpatient transport" for the rest of Monday and Tuesday morning.
It said the exceptions to this decision were cancer and renal patients "for whom every effort will be made to provide transport".
Snow has been falling across much of Northern Ireland since 1000 GMT on Monday.
George Best Belfast City Airport said at 1640 GMT on Monday that delays and cancellations were being experienced on a number of routes.
Translink said a number of its bus routes in Northern Ireland have been suspended due to the weather.
There has also been disruption to a number of train services.
The PSNI has warned motorists to be cautious as icy conditions affect roads across Northern Ireland.
There have been a number of accidents on the roads over the weekend.