Gritting of footpaths in Northern Ireland still unresolved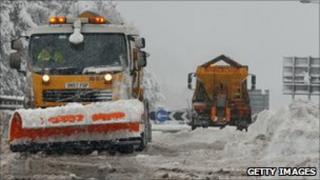 As the cold weather continues, the debate over who is responsible for gritting footpaths in Northern Ireland is still unresolved.
Local councils have said they have been have been trying to resolve the issue with the Department for Regional Development (DRD) for ten years.
Eveyln Robinson from the NI Local Government Association (Nilga) told the BBC's Good Morning Ulster programme: "The DRD has the power to grit footpaths. They can do that through appointing agents or appointing others to do the work for them."
"The problem is there isn't any money to do it, the DRD has said that the cost is prohibitive, if the cost is prohibitive for the DRD, what mechanism makes it affordable for cash-strapped councils? Where do councils get this prohibitive amount of money?"
Although the Roads Service has no statutory responsibility to grit footpaths, it provides salt boxes and grit piles at strategic locations which can be used by the general public.
Conor Murphy, Minister for Regional Development said there had been an attempt to reach agreement between councils and the DRD in 2001, but that had fallen through.
"The councils raised issues around indemnity and the like and those issues were sorted, but they didn't want to take on the work," he said.
Additional burden
"Last year, I asked the Roads Service to revisit the issue with the councils and attempt to reach an agreement.
"They then raised the issue of if councils wanted to use a third party to do this could they indemnify them."
Despite allowance being made for this in the agreement the majority of councils rejected the proposals.
Mr Murphy said that some individual councils are working with the Roads Service to tackle the problem.
"I know Belfast City Council are adapting their own street sweepers to be able to spread salt and be able to clear snow and ice, I know other councils want to explore that and may do the same," he said.
"Some coucils feel that this would be an additional burden on them, but I have spoken to some chief executives and in the cold spell earlier one of the chief executives told me that they had 18 manual workers sent home because they didn't have any work for them to do and he was saying that they could be deployed out on the streets clearing footpaths so councils do have manual labor resources which the Roads Service does not."
Mr Murphy said he hopes councils rethink their decision to reject the proposald put forward by the Roads Service.
"In the meantime, local councils should know that they can go to their local Roads Service organization and work out local arrangements with them which will give them practical help to clear the footpaths.