Continued cold weather prompts second cash payment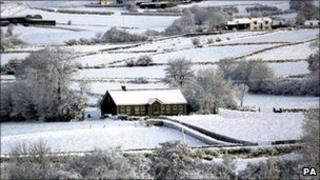 The second of this winter's cold weather payments in NI has been triggered following the continued drop in temperatures.
A further £1.82m will be paid to people who qualify for the payment.
The areas affected are covered by the Met Office's Aldergrove, Ballykelly, Katesbridge and St Angelo (Enniskillen) weather stations.
The postcode areas eligible are: BT24-34, 39-46, 47-49, 51-57, 74-77, 80 and 92-94.
Social Development minister, Alex Attwood, said:"This latest round of payments is very timely and brings the total amount of payments made so far to £3.2m.
"The continuing cold period is a reminder of the hardships facing vulnerable people in our society who continually have to keep an eye on the fuel meter and protect themselves from the cold at the same time. People can expect to have their payment on, or around, Wednesday 8 December.
"Those living in post code areas BT47-49 and 51-57, which are covered by the Ballykelly weather station will receive their payments on, or around Wednesday, 15 December 2010.
"This is because the trigger at Ballykelly was reached after the other weather stations."
Only those qualifying customers living in these postcodes will receive the £25 payment.
The Social Security Agency will make the payments automatically to qualifying customers and there is no need to make a claim.
The Cold Weather Payment is available when the average temperature is recorded or forecast to be zero degrees Celsius, or below, for a period of seven consecutive days.
Last week it was announced that £1.3m would be paid to those who qualify in postcode areas covered by the Met Office's Castlederg, Glenanne and Katesbridge weather stations.