Ice damaging Foyle Search and Rescue's equipment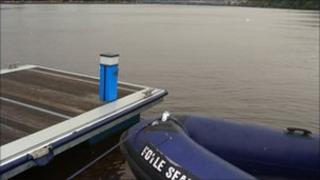 A charity which rescues people from the River Foyle has warned the icy conditions are causing thousands of pounds worth of damage to its equipment.
Foyle Search and Rescue said large floes of ice on the river are harming its pontoon and boats.
There are also fears it could affect their response times.
The charity's chairman, Craig Smith, said last year's bad weather cost them £90,000.
"Last January the ice froze right across the Foyle and it nearly sank our pontoon.
"We had to get it lifted off.
"At the moment the ice isn't as high as that, but we're enquiring again about taking our pontoon off the water, which will cost us £13,000 alone."