Father hails McDowell's world challenge event win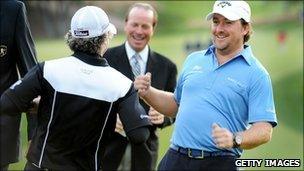 The father of Graeme McDowell has spoken of his delight following his son's triumph over Tiger Woods in California.
For the first time, Woods lost a four-shot lead going into the final round of an event as McDowell won the Chevron World Challenge after a play-off.
The golfer from Portrush, is now up to a career-high seventh in the world.
Kenny McDowell described his son's display as amazing.
"To win against Tiger Woods was just great, ok in the past year Tiger has not played so well - but Graeme was absolutely up for it.
"He matched Tiger Woods shot for shot and Tiger was at his best yesterday.
"As the saying goes one shot is all you need as long as you are in front."
The US Open champion holed from 20ft for a birdie to clinch a fourth title of the season as Woods's putt slid by.
Mr McDowell said both he and his wife Marion had watched the event on television and were inundated with phone calls as the drama increased.
"The rest of the family were on the phone during the night, we are all really pleased it was absolutely amazing," he added.
He said he had called into McDowell's home club, Rathmore GC, on Monday morning and saw a few happy faces.
Some members struck lucky after placing a bet on the 31-year-old to triumph in the world challenge at the start of last week.
"I was over at Rathmore Golf Club this morning and there were about 30 in there watching re-runs of Graeme's win on televsion," Mr McDowell added.
"There was not a drink of alcohol in sight - just a lot of cups of coffee.
"They would have got 16-1 on Graeme winning at the start of the week and three or four of the boys put ten pounds on each way, so they are quite pleased."
McDowell secured the winning point in the final match in the Ryder Cup at Celtic Manor in October and finished second to Germany's Martin Kaymer in the European Tour's Race to Dubai order of merit.
"2010 has been the stuff of dreams," the Northern Irishman said.
"Playing one of the greatest golfers who has ever played and to beat him like this I'm just ecstatic."