Second day of snow chaos for NW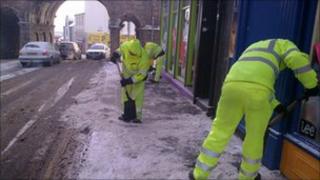 The north west is enduring a second day of severe travel disruption after heavy snowfall on Monday brought the roads to a virtual standstill.
Almost 700 schools across Northern Ireland have said they will be closed on Tuesday.
The runway at City of Derry airport was closed, but has now reopened.
Roads Service has warned that driving conditions are very poor even on the salted network as some roads are covered with compacted snow or slush.
The Northern Ireland Ambulance Service has cancelled "most outpatient transport" on Tuesday in the interests of patient safety.
The only exceptions are for cancer and renal patients, "for whom every effort will be made to provide transport".
Denis Wilson from Roads Service said the temperature dropped as low as -9 on the Foyle Bridge.
"Things have been very treacherous right through the night, but we have now got all the main routes treated and they are passable with care.
"There are some problems in some of the estates in Derry, and we haven't been able to get in because we've had snow ploughs fitted to our vehicles, but as soon as we get the main routes treated this morning we'll be going in to treat those roads.
"The gritters have been on the go since half past three this morning and they'll be working right through until we get everything passable."
Roads Service has warned there may be disruption in Gobnascale, Creggan and Ballymagroarty while salting is taking place.
There are also delays to taxi services in Derry.
Some companies warned of delays of up to three hours on Monday morning.
Andrew McCartney from the North West Taxi Proprietors Association said drivers are doing the best they can.
"Most offices have some sort of service running but it's limited.
"We would appeal to people not to travel unless you have to."
The Met Office has forecast sleet and snow showers around dawn on Tuesday, which could lead to widespread ice on frozen surfaces.
There are also knock-on delays at Belfast International airport, which was closed on Monday.
Bus services in Derry are operating as normal after being cancelled on Monday, but Translink have warned there are difficulties in accessing Creggan and other estates and passengers are asked to be patient and expect delays.
Ulsterbus Goldline services from Derry to Dublin, Belfast and Omagh are operating as normal.
The North West Regional College in Derry, Limavady and Strabane is open but all evening classes have been cancelled.