Posioned Golden Eagle found dead in County Tyrone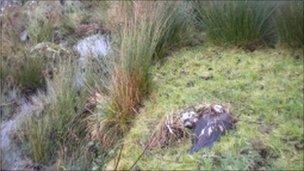 A Golden Eagle has been found dead in a couty Tyrone village after it had been poisoned, it has emerged.
The bird was found on 1 November 2010, outside the village of Killeter in west Tyrone.
It had a partially full crop, suggesting that it had eaten recently. It was taken away by police for testing.
The post-mortem revealed that was poisoned by carbofuran, a substance which was banned in the UK in 2001.
Wildlife conservation charities the RSPB issued a statement condemning the poisoning in conjunction with the Golden Eagle Trust and BirdWatch Ireland.
RSPB NI Director Dr James Robinson said "Words cannot express our disgust at this terrible and careless act".
"The use of this poison is illegal and this method of baiting is indiscriminate and banned; whoever left this out was acting outside the law," he said.
"The police are investigating this, and we hope they will get to the bottom of it."
The bird was collected as a chick from the Outer Hebrides, Scotland, in June 2010 and reared and released in Glenveagh National Park, County Donegal by the Golden Eagle Trust.
This was part of an ongoing project to restore golden eagles in the Republic of Ireland.
Satellite tracking showed that the dead bird spent several weeks around the release area before moving to Killeter Forest in Tyrone, where it had been since mid-October.
Lorcan O'Toole, Golden Eagle Project Manager, said, "Every year a few young golden eagles from Glenveagh wander across Lough Foyle and spend time in County Antrim.
"Other birds routinely pass through County Tyrone and County Fermanagh en route to County Leitrim and beyond.
"It is a great shame that someone in Tyrone is still using poison illegally and this healthy young eagle has died as a result.
"There is simply no justification for using poison in the month of October and it seems so pointless and reckless."
Dr Robinson said birds of prey are still threatened by poisoning - sometimes deliberate and sometime the accidental result of poor fox and crow control.
"This supports our case to introduce an amendment to the Wildlife Order 1985 so that possession of pesticides with no lawful reason for use would be illegal in Northern Ireland," Dr Robinson added.
Alan Lauder, Head of Conservation at BirdWatch Ireland, said, "After working hard over the last few years to get legislation in place on this side of the border to match that in Northern Ireland to deal with this issue, this incident goes to show that there are still a minority that have a total disregard for the law when it comes to our precious birds of prey.
"I hope we'll see proper enforcement of legislation right across the island and those who damage our natural heritage given appropriate penalty," he added.
If people find a suspected poisoned bird of prey they are advised that some of the poisons can be dangerous and they are warned not to handle the carcass.