HET report gives family information on soldier's death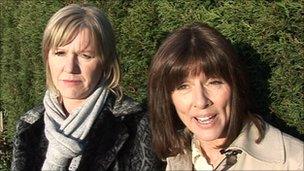 The sisters of a soldier shot dead by the IRA 40 years ago have received more detail about the circumstances surrounding his death from the Historical Enquiries Team.
On Tuesday two of Lance Corporal Richard Miller's sisters visited the spot where he died.
Lance Corporal Miller, 21, was on undercover duty when he was ambushed in August 1973.
He was shot on the Falls Road close to the Royal Victoria Hospital.
No-one was ever charged with his murder. Tuesday would have been his 58th birthday.
Lance Corporal Miller, who had joined the army at 16, served with the Light Infantry.
He was in an unmarked car outside what was then the main hospital entrance when he was hit in the body by a gunman who opened fire from the back of a speeding red Audi.
His family said the HET report had been very helpful, his sister Karyn Jackson, 51, said it was a significant step.
"It is a fantastic legacy for me to pass on to my two children because all they had was my recollection of a brother," Mrs Jackson said.
"The report is just fantastic, the information that has gone into it has been great for us.
"I would recommend any families that are approached by the HET to agree and have the report carried out."
He was the 939th murder victim of the Troubles in Northern Ireland.
The Historical Enquiries Team (HET) was set up to review the circumstances surrounding the deaths of more than 3,000 people killed in the years of violence has carried out a report for the family to let them know exactly how the young soldier had died.