Graeme McDowell shows smooth driving brings its rewards
By Ross McKee
BBC News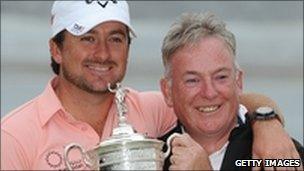 For Graeme McDowell, 2010 was the year all of his Christmases came at once.
The Northern Irish golfer was already in dreamland after his US Open triumph in June and that was before he claimed the final point to beat the United States in the Ryder Cup in October.
Sunday saw him tame Tiger Woods to reach a career-high seventh in the world rankings, coming from four shots behind to beat the American in a play-off to win the Chevron World Challenge in California.
Now it has been announced that he and Martin Kaymer are joint winners of the 2010 European Tour Golfer of the Year award for the first time in its history.
McDowell's father, Kenny, has had a better view than most of the 31-year-old's ascent to the unpredictable peaks of professional golf in the 21st century.
It is only natural that at the end of a super-charged season he takes a moment to reflect on times when his son's ambitions were less adventurous.
"When Graeme first started playing golf he would have been about eight," he said.
"We would have gone over to the pitch and putt course on the Portstewart Road in Portrush with Graeme and his brother Gary after Sunday lunch.
"Myself and his mum Marion would have a snooze in the car, while the boys played.
"Later we took them over to Rathmore Golf Club.
"They had to be ten before they could join Rathmore GC and the first year we got them membership we put it in their Christmas card and they were over the moon.
"Things have taken off from there."
The young McDowell went on to claim the Ulster Boys championship at 16 under the tutelage of uncle Uel Loughery, before gaining a golf scholarship to the University of Alabama in 1998.
His dad believes this experience was essential in giving his son the edge to compete at the highest level, four years later he collected the Haskins award for the most outstanding US collegiate golfer.
"I think when he came back from the American college he was a totally different player," Mr McDowell added.
"He was playing with guys like Hunter Mahan (McDowell's opponent in the 2010 Ryder Cup singles matches) and Lucas Glover who won the US Open the year before Graeme - they are expecting to win every day.
McDowell announced himself on the European tour when he won the Volvo Scandinavian Masters in 2002 and he has been a consistent performer since.
But his game has entered a different stratosphere in the past year, with the County Antrim man leaping more than 30 places in the world rankings.
Kenny McDowell puts this down to an improvement in Graeme's short play, via coach Pete Cowen, a point illustrated by the series of 20 feet putts which sunk Woods on Sunday.
"I don't think a lot has changed, but his short game has got a lot better," he said.
"Pete Cowen is a hell of a short game coach and it has helped Graeme's putting."
He watched Graeme's world challenge success on television with his wife, phone calls filtering in from various family members as the drama increased.
But back in June, Kenny was at his son's side on Father's Day at Pebble Beach as he became the first European to collect the US Open title in 40 years.
"My heart bursts with pride for Graeme at times," he said.
"In terms of what he did at the US Open, it is hard to find the words to describe it.
"It was awesome being there as Graeme approached those last holes.
"I would have been happy to see him finish in the top five, but for him to win it and for me to be there was magical."
The proud parent says Graeme would consider his grandstand finish in the Ryder Cup at Celtic Manor as the highlight of a trophy-laden year.
Kenny believes the golfer's greatest achievement is that despite all the honours of 2010, success has not gone to his head.
"It is the fact that he has not changed, he is still the same boy, and everyone says he is so nice and he still has his feet on the ground," he said.
And after amassing more than £4m in 12 months, it is time to return the favour of that golf club membership all those years ago.
"I have already got my Christmas present this year, before Graeme went out to the Dubai World Championship he bought me a new car - an Audi A8," Kenny said.
"It is a four wheel drive, so it is great in this snowy weather."