DUP tables veto on ending double jobbing for MLAs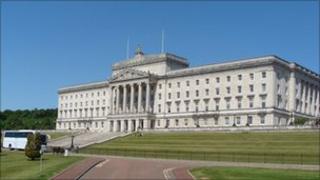 The DUP has attempted to block legislation designed to end double jobbing between councils and Stormont.
It has emerged that the party tabled a petition of concern on Monday giving it a veto on the bill.
However the final vote, expected on Tuesday, has been delayed due to the illness of its sponsor Dawn Purvis.
The private members bill is designed to stop assembly members also holding council posts ahead of next year's elections.
Ms Purvis, MLA for east Belfast, had argued this would create opportunities for young people, women and other groups under-represented on councils.
However the DUP did not agree and has now tabled a petition with 30 signatures, giving it the chance to block the bill at a vote.
The final vote on the bill will now take place in January.