SDLP calls for junior minister posts to be scrapped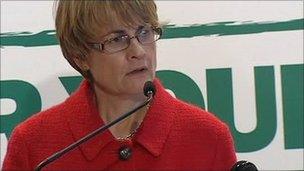 The SDLP has said the junior minister posts held by Gerry Kelly and Robin Newton should be scrapped.
Party leader Margaret Ritchie, launching the SDLP's budget paper, said the Office of First and Deputy First Minister had become bloated.
The SDLP also proposed a pay freeze for all public sector workers earning more than £31,500.
The party said its proposals would generate billions for the Executive through savings and revenue.
While it ruled out water charges, it also proposed:
5% cuts for anyone in public sector earning more than £80,000
lifting the freeze on rates
a new £2 million arts gallery to boost tourism and create jobs, possibly at the site of the Crumlin Road Courthouse
raising £3 million annually by charging rates on bank ATMs
reconsidering free prescription charges
The Northern Ireland budget is now weeks late, with Sinn Fein calling on the other parties in the executive to resist "Tory cuts".
The SDLP's "Partnership and Economic Recovery" paper runs to 60 pages, with one of the key proposals concentrating on public sector reform.
The pay freeze for workers earning more than £31,500, and cuts in salaries more than £80,000 would affect assembly members as well as civil servants.
The executive has been told to find savings of about £4bn.
The Ulster Unionist Party accused the SDLP of coming up with "fairytale finance".
"This document is extremely populist and attempts to be all things to all men.
"It ignores the hard questions and is mostly based on increased levels of borrowing and what appear to be extremely hopeful and speculative efficiency savings," the UUP's David McNarry said.
"This is a credit card budget at a time of unprecedented government debt."
Related Internet Links
The BBC is not responsible for the content of external sites.