Scores of Northern Ireland schools closed by weather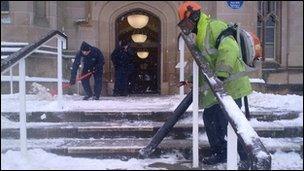 Hundreds of schools have again been forced to close as snow and ice continued to cause problems in Northern Ireland on Wednesday.
There was snow overnight in Londonderry and Tyrone and temperatures dropped to -15 in Katesbridge, County Down.
There were no reports of road closures but conditions are treacherous and drivers are warned to take extra care.
All three airports are open and the ambulance service is operating normally.
Education boards have confirmed that almost 700 of NI's statutory schools were closed by the hazardous conditions on Tuesday.
Roads Service said gritters had been working through the night but fresh falls of snow had made operations difficult.
Colin Brown from Roads Service explained: "Each time you have a fresh fall of snow it is effectively like a carpet laid on top of a treated surface, so you really are starting again with another frozen road.
"So until such times as traffic starts to bite into the road and break up the ice alongside the treatment of salt the conditions will be difficult."
BBC NI weather presenter Cecilia Daly said there was a severe weather warning across NI for widespread icy roads.
"There are further snow showers to come mainly over parts of Antrim, Derry and Tyrone but they should ease this afternoon," she said.
"Freezing fog will affect some areas too through the morning otherwise many places will be dry and bright though bitterly cold.
"Temperatures will struggle to get above freezing in rural areas therefore there is a risk of ice in some rural areas throughout the day."
Related Internet Links
The BBC is not responsible for the content of external sites.