Prison bosses slammed in report over John Deery death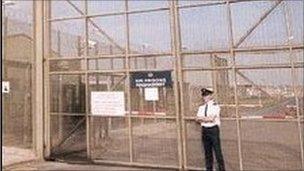 A report into the death of a prisoner last year has criticised the prison authorities for failing to implement changes recommended after a similar incident a year earlier.
Prisoner Ombudsman, Pauline McCabe, has made a further 12 recommendations for improvement. Her report says the prison service is in urgent need of reform.
John Deery, 50, hanged himself in August 2009. He was found in his cell at Maghaberry jail and died later in the Royal Victoria Hospital in Belfast.
The investigation into his death found a number of failings by staff who were supposed to be monitoring him.
These included recording that observations had been carried out when they had not, and staff using the phone or computer when they were supposed to be conducting observations.
The report also said the investigation revealed that recommendations made after the death of another prisoner, Colin Bell, in the summer of 2008 had not been implemented at the time of Mr Deery's death.
Mrs McCabe described that situation as "very regrettable" and said many of the problems identified appear to stem from wider issues related to "leadership, management and the prison culture".
The investigation also found that Mr Deery, who was a convicted sex offender, had spent only 11 minutes or less out of his cell during the four days before his death and that he did not, as required by Prison Service policy, have a meaningful care plan or an assigned care co-ordinator.
It also found that while most of the medicines Mr Deery was taking before entering prison were prescribed in his first two days of entering, two medicines, including an anti-depressant, were not prescribed until the day he died.
Mrs McCabe said there was evidence that "some staff some of the time really did their best for Mr Deery".
She added that efforts had been made since the death of Colin Bell to improve policy and practice in the care of vulnerable prisoners.
However, she said it was "very evident that those efforts have not been effective in delivering real change on the ground".
"Our entire prison system, which accounts for massive annual public investment, is desperately in need of a coherent strategy that addresses these overall issues," she said.
"I look forward to reading the findings and recommendations of the review team chaired by Dame Anne Owers in the hope that their deliberations will provide the way forward."
Related Internet Links
The BBC is not responsible for the content of external sites.