North west councils begin gritting pavements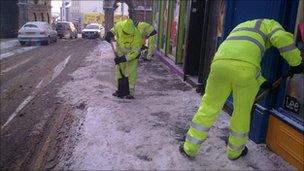 Councils in Londonderry, Limavady and Omagh have begun gritting pavements for the first time since the cold snap began.
Pavements were left untreated amid confusion over whether Roads Service or local councils were responsible.
On Thursday, Strabane District Council said it would also begin to treat its pavements.
The developments follow a meeting between the Roads Minister, Conor Murphy, and local councils.
He said he believed councils were "best suited" to undertake gritting work on pavements.
"Roads service will provide salt and some resources as well," he said.
"Belfast and Ballymena councils have been working away at this since 2001 without any legal consequences."
SDLP councillor Mark H Durkan said agreement has not been reached, but councils have a moral obligation to make paths safe.
"Twenty staff have been redeployed from different areas within the city engineer's department, and they have been doing the streets in and around the city centre.
"I wish we could do every footpath in the town, but it's just not possible."
Limavady Independent councilllor Leslie Cubitt said it was about looking after the town's citizens.
"Our men went out at eight o'clock this morning with mechanical shovels to clear the footpaths and then they're going to grit them," he said.
Sinn Fein councillor Kevin Campbell said volunteers in the Creggan area of Derry have been gritting pavements to stop older residents from slipping.
"Pensioners in Iniscarn were actually snowed in, so we went down with shovels, picks and ice picks and we cleared the pathways to let them get out.
"Now we've broken into three teams and we're going around all the pensioners' areas.
"It's just about letting them walk out of their houses without falling."