Actor Jude Law makes Derry festival date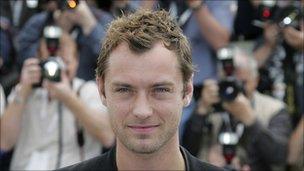 Hollywood heart-throb Jude Law is on his way to Londonderry as part of a London cultural festival.
The actor is one of the driving forces behind a midsummer day concert which will form part of the finale to the Cultural Olympiad in 2012.
The event is a UK-wide celebration of culture which is intended to complement the London Olympics.
Details about the Derry concert are still in the planning stages, but it is believed it will espouse the ideals of the ancient Greek Olympic truce.
It will be produced by Jeremy Gilley, the founder of the Peace One Day movement for a global ceasefire.
The mayor of Derry, Colum Eastwood, said the concert demonstrated Derry's appeal as a national and international venue.
"This event will help bring confidence and provide a significant boost for 2012 with a fantastic lead-up to the City of Culture 2013.
"The association with a legacy of truth through the Peace One Day concert has a resonance for the city and one which will bring not only world class artists to the area but an international focus on how our city has moved on from conflict," he said
Last month it was announced that the Turner Prize will take place in Derry in 2013 as part of the City of Culture celebrations.
Law is one of a stellar line-up of famous names including Cate Blanchett and Damon Albarn who have given their support to the Cultural Olympiad.
The Mayor of London, Boris Johnson said he was already excited about the London Olympics.
'We've less than 600 days to the start of the greatest sporting show on Earth and want to match it with a cultural programme that is also memorable and exciting.
"The calibre of people - from London, the UK and abroad - underlines the ambition of the London 2012 Festival.
"It will be a series of fantastic events to mark an unforgettable year."
Related Internet Links
The BBC is not responsible for the content of external sites.