McGimpsey blames SF for budget deadlock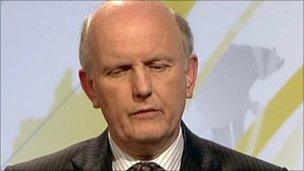 The health minister has blamed Sinn Fein for the Executive's failure to deliver a budget.
Michael McGimpsey said there were few signs of agreement - despite the comments from the Deputy First Minister, Martin McGuinness, that he was confident a deal could be reached.
Northern Ireland is the last of the devolved administrations to agree a draft budget.
The executive has been told to find savings of about £4bn.
The health minister said Sinn Fein was a "key player" in delivering agreement on the budget.
"I don't see signs of Sinn Fein agreeing a budget. I hear lots of talk, but my worry is that they are looking at wider political issues."
The First Minister Peter Robinson has previously warned that an agreement on a draft budget must be finalised within the next two weeks.
Peter Robinson said that time for reaching a deal was running short and a plan must be agreed before the Assembly breaks for Christmas.
There had been concerns that it could take until mid-January for ministers to settle on a plan, but Mr Robinson said he wanted the details completed by 15 December.