NI Tory party chair Irwin Armstrong to resign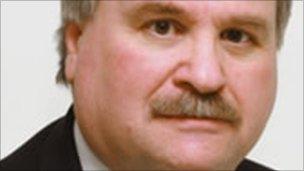 The chairman of the Conservative Party in Northern Ireland is to resign from his position following the news that the party will not field any candidates in the Assembly elections.
Irwin Armstrong said he had not resigned from the party, but will issue a statement later.
The news emerged after talks with the Ulster Unionist leadership in London.
As a result of the agreement, UUP MPs will vote with the Tories although this has to be ratified.
The two parties will continue to field separate candidates in next year's local government elections, although if elected, they will agree to co-operate on councils.
Mr Armstrong said he had been told by the Secretary of State Owen Paterson that the Conservatives were going to field Stormont candidates.
"He rang me up and said it had been agreed we would be running candidates. In politics you talk to your colleagues and you accept that's what they mean," he said.
"In this case, somehow, that decision was changed and I wasn't consulted before it was changed."
The parties' previous electoral pact failed to make an impact when they did not win a single seat in Northern Ireland's 18 constituencies.