NI finance minister: Corporation tax cut 'totally unattractive'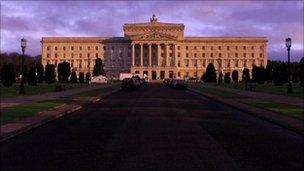 The Finance Minister Sammy Wilson has said a cut in corporation tax in Northern Ireland would be 'totally unattractive' if it meant a cut in the block grant of around £310m.
Mr Wilson was speaking after Secretary of State Owen Paterson told MPs that a cut in the tax could mean a cut in the block grant of £310m.
The secretary of state who was speaking to the Northern Ireland Grand Committee at Westminster is expected to unveil a consultation paper on the subject shortly.
Sammy Wilson said the government would have to come up with ways to deal with the budget shortfall if the tax cut went ahead.
The move comes after NI business leaders united in a call for powers to vary corporation tax to be devolved to the assembly.
Last week, seven leading business organisations wrote to MLAs and to the Northern Ireland secretary calling for the change.