BBC online system for notifying school closures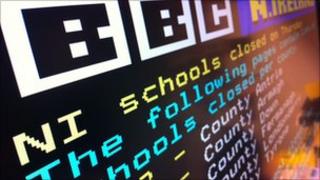 The system for notifying the BBC NI website of school closures has been revised due to the high volume of calls since Monday.
Schools are asked to contact the BBC by email only, and using the password advised by the Department of Education.
Due to the volume of closures, Ceefax and the web page are now showing only the schools which have advised they are closed on Thursday 9 December.
This procedure will not be available to advise of schools re-opening - the pages will only reflect closure.
The procedures for notifying school closures is as follows:
email notification of closures to ni_news@bbc.co.uk using the password
only one email is required to advise of a closure
details of closures will not be taken over the phone
the details will appear on the BBC news website and Ceefax page 169 and also on the red button service
Due to the number of schools affected it may take some time to update the system. However as many closures as possible will be updated and carried on the site.