Police fired at 'machete robber' in Portadown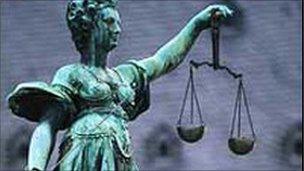 A policewoman fired a shot during a struggle with a machete-wielding robber in Portadown, the High Court has heard.
Officers were called to the scene after two men held down a woman and pulled three bracelets from her arm, prosecutors claimed.
It was also disclosed that one of the accused is the alleged victim's brother.
Details emerged as John McDonagh, 51, was granted bail but banned from entering Portadown.
Mr McDonagh, of no fixed address, faces charges of robbery, false imprisonment and possession of an offensive weapon in a public place.
The alleged offences were committed in the town's Obin Street on 25 November.
A judge was told Mr McDonagh and a co-accused had been drinking heavily when they went to the other man's sister's home.
According to the prosecution, a machete was produced by the other man before the victim was pinned down and her jewellery taken.
Crown lawyer Kate McKay said police arrived and were forced to use CS spray and a baton during a struggle with the co-accused.
The man was warned to drop his weapon or police would shoot, the court heard.
Mrs McKay said a female officer fired her police issue gun when the man continued to brandish the weapon, although neither suspect was struck.
Michael Boyd, defending, said Mr McDonagh had taken so much drink he had little memory of the incident.
He argued that the case against his client was "very much a secondary role to the extremely serious actions" of his co-accused.
After hearing the claims the judge stated: "His friend attacks his sister with a machete. It doesn't get more unpleasant than that."
Lord Justice Coghlin also remarked that McDonagh's level of awareness had been affected by the "enormous quantity of alcohol he ingested".
He granted the accused bail to stay at an agreed address in Lurgan.
Mr McDonagh was also banned from drinking, or making contact with his sister, and given a night-time curfew.