EU taskforce is returning to Northern Ireland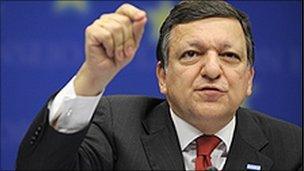 The first and deputy first minister have welcomed an announcement that the European Commission taskforce will return to Northern Ireland in 2011.
EC President Jose Manuel Barroso made the announcement when he met Peter Robinson and Martin McGuinness.
It is expected the taskforce will return early next year to examine more potential funding opportunities.
Mr Robinson and Mr McGuinness met with other senior EU figures during their visit to Brussels on Thursday.
Mr Robinson said the taskforce announcement was "hugely significant".
"The taskforce was a unique initiative originally setup in 2007 to ensure that Northern Ireland took full advantage of the opportunities that membership of the EU offers," he said.
"Since then, the taskforce has enabled us to secure funding valued at 23.2m euros under the Framework 7 Programme, significantly surpassing our previous achievements."
Mr McGuinness added: "The continuation of the taskforce during these financially difficult times across Europe, underscores the President's commitment to building peace.
"The taskforce is a unique approach to promoting our interests and involvement in Europe."