Northern Ireland MPs to oppose tuition fee plan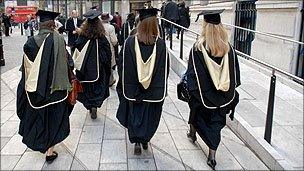 All Northern Ireland's sitting MPs are expected to vote against controversial government plans to raise university tuition fees on Thursday night.
The DUP, SDLP, Alliance MP Naomi Long and Independent MP Lady Hermon will oppose the move.
Under the Government's proposals, the cap on university tuition fees in England is to rise to £9,000 from the current £3,290.
Students will start paying back when they're earning over £21,000 a year.
Minister for Learning, Danny Kennedy, has admitted fees in Northern Ireland are also "likely" to increase if the proposals are passed at the House of Commons on Thursday.
Naomi Long, Alliance Party, called for a rethink on the plans.
"Already in the UK, we invest much less in Higher Education than other parts of Europe. I think we need to be serious about Higher Education if we want to have a well educated workforce and be able to generate wealth and to feel the benefits of that right through society," she said.
"I think the balance in this case is wrong. Too much is dependent on the student and I would really urge them to look at the proposals and try to come up with something which is more progressive."
Gareth McGreevy, president of Queen's University's students' union said the cost of fees would deter potential students - especially those from less well-off backgrounds - from taking up a place.
"A lot of people will now look at their bank account and sit down. This is a matter of mortgaging one's future in terms of debt for a life-time."
Nigel Dodds, DUP, has compared the Liberal Democrats' position on the issue to Fifa's treatment of the England World Cup bid.
At Commons question time on Wednesday, he asked Prime Minister David Cameron: "In light of your experience at the World Cup bid in Zurich last week, can you tell us what your view now is on an organisation that engages in the most convoluted and bizarre voting arrangements, which says one thing and then votes exactly the opposite way, and who has a leader who seems more interested in power and prestige than accountability?
"And after you've finished with the Lib Dems, can you tell us what you think of Fifa?"
Mr Cameron replied: "I certainly learned one thing which is when it comes to breaking promises, politicians have got nothing on football management, there's no doubt about that."
Mark Durkan, SDLP, said that in the original term of devolution, the NI assembly reduced the number of people paying tuition fees, the rate that people were paying and brought back student grants.
"We struck a difference then and it is going to be harder and harder to sustain that difference. That is why we need to fight the cuts now," he said.
Independent MP, Lady Sylvia Hermon said: "We don't know for certain the details about interest charges and how lower income families will be supported.
"I am particularly annoyed that MPs are being asked to vote before we can see the details spelled out."
The vote will take place on Thursday afternoon.