Michael McGimpsey in warning over budget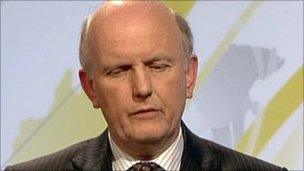 The health minister is warning that more families seeking care for elderly relatives will face disappointment, unless the Executive protects the social services budget.
Michael McGimpsey said part of his department's money has been used up and it is now critical that the Executive agrees a budget as soon as possible.
With only two additional nursing home places now available in the Western Health Trust, the health minister's warning is already being felt in certain parts of Northern Ireland.
With nursing and home care waiting lists at an all time high, Mr McGimpsey gave a simple but stark explanation.
"The reality is the money has been used up. My budget is constrained all over - but that is what the future of the health service will be like if we cannot agree a proper budget," he said.
"The demand is rising, we have the fastest growing population but we have to be prepared to meet that demand. It is not right that families have to wait - but what else can I do."
In an exclusive interview with the BBC, the health minister warned there would be further repercussions unless the budget was agreed.
"At this stage, many services - and I am not just talking about those in the health service - are unsure about their future.
"Take for example those organisations that deal with suicide, many of those, very soon, will be working to protective notice," he said.
The minister said that it wasn't the Ulster Unionist Party that was delaying the process.
"My understanding is that it is Sinn Fein. They are the key player and they have to agree in order for the Executive to agree this budget," he said.
"There may well be lots of talking, but I fear they are looking at wider political issues."
Mr McGimpsey said the health service is constantly evolving and the public must prepare itself for a different type of service.
"That could be services, or building merging. Take for example cancer services at the City Hospital, a specialist service under one roof," he said.
"The same may apply to delivering accident and emergency services in one or two hospitals. "
Referring to recent media reports on the number of high earning managerial posts and the high cost of overseas training courses, the minister said he was not in the business of talking about stories that distorted the facts.
"This is a story that ran in a newspaper about spending £350,000 over three or four years on overseas training courses. I can justify every penny.
"As a result we saved millions in providing a better service and we saved many more lives as a result of it. I can demonstrate that this department saved millions."
When asked if the number of neurological beds at the Royal Victoria Hospital shouldn't have been reduced, Mr McGimpsey said he was not involved in the row, it was an issue involving the Belfast Trust.
"I intend to visit the neurological ward very soon and talk to the consultants involved.
"What I can't have is trusts running the show, taking the advice from clinicians and then interfering in how it's being run.
"I intend to go and listen to their concerns, but at this stage I must say that no-one has been turned away from a hospital bed."
The minister agreed that perhaps Belfast Trust Management should have consulted more with the doctors who are involved in the neurological ward.
Sinn Fein's Michelle O'Neill accused Mr McGimpsey of "running away from his responsibilities as a minister".
"He has never been a team player in this Executive and has never engaged in the heavy lifting," she said.