Call for transparency as 10 vulnerable NI children die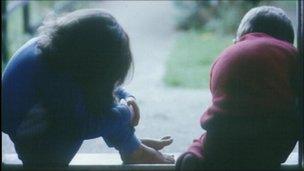 At least ten vulnerable children - some of them babies - known to social services have died in Northern Ireland since 2003.
The figures are contained in reports released as part of BBC research into how such deaths are investigated.
A leading children's charity has called for more transparency into how investigations are handled.
The NI health minister said he may review NI policy but underlined the sensitivities surrounding such reports.
BBC NI reporter Tara Mills said: "When a child known to social services dies or is seriously injured, an investigation is carried out to see what went wrong and to find out if lessons could be learned.
"In Northern Ireland at least ten children have died - some of them babies - since 2003. Of the babies one died in a house fire, another while asleep with its mother on the sofa.
"But the deaths of others have never been explained."
In England, the investigation into the Baby Peter case found mistakes had been made in several agencies. English reports such as this are made public but in Northern Ireland, that is not the case.
In fact, such reports can only be released under Freedom of Information legislation and even then, much of the detail is blacked out - from the age of the child, to which health trust area they lived in or even exactly when they died.
The NSPCC and some MLAs have called for a change in policy to ensure that Northern Ireland publishes the final summary of these reports.
However, there is a view among some social workers that such a change would not be good.