Call for child care errors to be published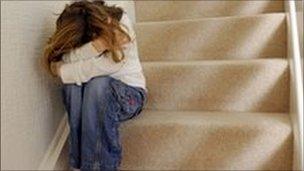 The death of a child is almost too terrible to imagine. But when that child is already known to, or in the care of, social services questions are asked as to why it happened.
When Baby Peter died in England, the reviews of how the authorities handled the case showed a catalogue of errors in agencies across the health and social services system.
It may be surprising to learn that if a similar case happened in Northern Ireland, it might never be made public.
Since 2003, 10 children known to social services have died - others have been seriously injured.
The BBC has spent the last six months fighting attempts to stop us bringing the details of some of these.
Northern Ireland handles publication of reports into these deaths completely differently to England. Some politicians and charities now say we must become more open and transparent.
The investigation into the social work handling of the Baby Peter case was called a Serious Case Review - something routinely published by social work teams in England.
In Northern Ireland they are called Case Management Reviews and they are not made public.
The BBC had to ask to see them under the Freedom of Information Act. Even then much of the information is blacked out. Ages, Health Trust area or even when the deaths occurred are not disclosed.
One of the reports looked at the circumstances of the suicide of a teenage boy. It was claimed he was the victim of emotional and physical abuse at the hands of his mother.
The boy was on the autistic spectrum and the report said there were two missed opportunities to intervene.
First, when an anonymous complaint was made of emotional and physical abuse at the hands of his mother.
Although this was classed as "high urgency" it was a month before the case was recorded and allocated to a social worker.
The police were not informed of the abuse allegations, even though the review panel thought they should have been.
Some time later after writing a story in school, teachers expressed concern about the boy's treatment at home.
This time it took 16-months for social services to investigate.
The information sharing between the school and social work at this stage was described as "deficient and mismanaged" and the report concluded "staff shortages due to unfilled posts and prolonged periods of sick leave had a profound impact on service delivery".
The panel members say there was "poor co-ordination, an absence of accountability, poor decision making and a lack of knowledge about autism".
Colin Reid, from the NSPCC, believes the final summary of each Case Management Review should now be made public.
He said: "If we go back to 2003 when these first started and I think many of the people involved didn't think they would make their way into the public domain, but I think times have changed.
"We have new legislation that has gone through the health committee in the assembly creating a new Safeguarding Board for Northern Ireland, and I think now is the time where we could look to publish these, to give public assurance that things are being done to deal with these very tragic cases."
But John Devaney, a former social worker and now lecturer at Queen's University, isn't so sure.
He said: "If people are constantly exposed to the negative aspects of the child protection system rather than getting a fuller view about how it works in the majority of cases.
"Albeit there is learning that comes from some cases where the outcomes are tragic but I think it undermines public confidence and also professional morale."
Several of the deaths contained in these reports were babies. One died in a house fire, another while asleep with its mother on a sofa. But some of the other deaths were not - and never have been - explained.
There were near misses too.
In another case four children from the same family were on the child protection register. The report was carried out when two of them suffered serious harm as a result of a lack of supervision.
One ended up in a coma after taking tablets, another was found face down in a lake.
Although some of the professionals involved were described as committed and co-operative and there was long standing involvement with social services two of the children almost died. In fact 30 agencies were involved with this family.
Neglect, sexual and emotional abuse are themes which appear throughout these reports.
They paint a horrific picture of what goes on in some families in Northern Ireland. And they show the terrible impact on children when they witness alcohol abuse and domestic violence.
The Health Minister Michael McGimpsey has not ruled out a change in policy but he says there are sensitivities surrounding these reports.