Pothole and frozen pipe worries as 'big freeze' thaws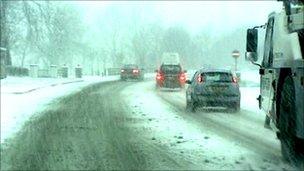 Hundreds of schools and businesses have reopened after this week's heavy snow and ice has started to thaw.
Forecasters have predicted a "slow, erratic climb" out of the freeze. There has been a thaw in most places but the weather is expected to dip again.
NI Water has advised people to check their water pipes for frost and ice damage.
The Roads Service said milder weather could improve safety, but motorists are still advised to drive cautiously.
The cycle of freezing and thawing water can aslo widen cracks in road surfaces and create potholes.
BBC NI weather presenter Cecilia Daly said the thaw is temporary.
"Temperatures will rise above freezing across Northern Ireland today, the first time in several days for some rural areas," she said.
"This will encourage a slow-thaw of lying snow .
"However many roads and pavements will remain very icy today as the ground is so cold and there will be black ice in places too."
NI Water has appealed to property owners to be extra vigilant, checking out buildings that have been closed over the last few days.
An NI Water spokesperson said staff are on standby to respond to reports of burst pipes.