Dungannon woman trying to save victim 'believed she was going to die'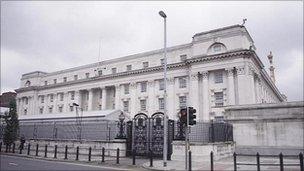 A trained first aider who was run over as she tried to save the life of her best friend's husband told a court on Thursday she believed she was going to die.
Speaking at a no-jury Diplock trial in Belfast Crown Court, Mrs Martina Donaghy said that, as she tried to stem the flow of blood from Eamon Hughes' chest, she heard someone screaming "oh my God they're coming again" and the sound of an engine revving before a hijacked taxi ploughed into her and her daughter Emma.
After the impact, Mrs Donaghy said she knew her left leg was broken and could feel a "burning sensation" in her right leg.
"I actually thought I was dying to be honest," she said.
Dungannon men Martin Murray, 23, from Windmill Drive, his cousin Liam Murray, 24, from Windmill Court, Kevin Toye, 24, also from Windmill Court, as well as 25-year-old William McDonagh from Kew Gardens in Ballymena all deny trying to kill Mrs Donaghy and her daughter.
The four are also charged with murdering Mr Hughes who was stabbed once in the heart on 14 September 2008 as he walked home from his daughter's 18th birthday party.
A fifth man, Kevin Murray, 41, from Lisnahull Gardens in Dungannon, who is an uncle to the other two Murrays, denies attempting to murder Mr Hughes' son Kevin after he allegedly shot him in the arm with a crossbow bolt.
According to the Crown case, Martin Murray was the knifeman who stabbed Mr Hughes in the chest and Mr Toye was the driver of the hijacked taxi which ran over the mother and daughter.
Mrs Donaghy told judge Mr Justice Treacy there had been a celebratory atmosphere at Siobhan Hughes' birthday party in the Irish National Forresters Club in Dungannon but that as she went to leave with Mrs Eileen Hughes, door staff kept them inside for a few minutes as there was a fight outside.
Mrs Donaghy told the court that as she walked back towards the Hughes' home in the Lisnahull estate to continue the party, she saw her brother, Patsy Vincent, standing in front of a man with his arms up in the air.
"At that stage, I ran towards Patsy because I had seen a fella standing in front of the car with a knife in his hand...waving it in front of him," she said, adding that her brother was telling the man, "Calm down, put the knife down".
Asked by a prosecution lawyer what happened next, the witness said she turned to check that her daughter was safe, but that when she turned back, Mr Hughes was falling to the ground.
Mrs Donaghy said she immediately "knew something wasn't right" so she rushed forward to help him.
"I rolled him over, I called his name - he never responded. Eileen (Hughes) was beside me shouting 'Eamon Eamon'...begging him not to leave her," she said.
Mrs Donaghy told the lawyer that as she and her daughter Emma, also a trained first aider, were putting pressure on the stab wound, "I could hear this screaming".
She said while she was concentrating on Mr Hughes, "I could hear like 'oh my God they're coming again, they're coming again', but I never really passed any remarks. I could hear the revs of an engine and the next thing I was hit by the car."
Following the collison, Mrs Donaghy spent three weeks in Craigavon Hospital and a further two weeks in the Royal Victoria Hospital and she said her injuries had "changed" her life.
She said the gash to her upper right leg was so severe, surgeons had to remove part of her right leg and both legs had "quite large scars...I was once a fit and active girl - I'm just not now".
Under cross examination from a defence lawyer, Mrs Donaghy denied discussing what had happened before she made her police statement in December 2008 as "it wasn't something we wanted to talk about because of the nature of what had happened".