Northern Ireland MPs unite in opposition to fees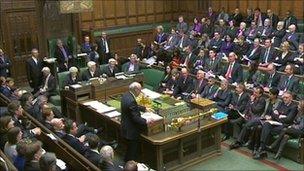 Inside the House of Commons Northern Ireland's MPs took a united approach to oppose the rise in third level tuition fees in England.
BBC Northern Ireland political reporter Stephen Walker was in Westminster for the five-hour debate.
The DUP, the SDLP, Alliance MP Naomi Long and Lady Hermon all voted against the proposals.
South Belfast MP Alasdair McDonnell told the House that he had not been persuaded by the arguments for a fees rise.
He said many people in his constituency were angered by the changes and he told MPs: "I want to offer my support to those students, many of whom are from south Belfast, who have come to make a peaceful protest."
The SDLP member later added: "The whole future of high-tech, high-value added economy that we all subscribe to depends on high-quality third-level education that is accessible to all."
East Antrim DUP MP Sammy Wilson explained how the move would affect the finances of the Executive. He claimed it would cost Northern Ireland £200m.
He said the plans "do not make economic sense".
He was asked by Lady Hermon if the Executive had been in contact with government ministers in London about the issue.
Sammy Wilson told the Independent MP for North Down that there had been no discussions between the government in London and the Executive on how the plans would impact on Northern Ireland.
The East Antrim MP also warned that if the changes go ahead "the whole system of higher education would suffer".
During the debate he said he and his party colleagues would be voting against.
East Belfast MP Naomi Long also voted against the changes. She told the House that "on balance" she could not support the moves to increase fees.
The Alliance representative explained to her fellow MPs that she had attended university which she described as "life changing".
She added that "I want other people to enjoy the opportunities I enjoyed". She said the tuition fee rise would have serious implications for Northern Ireland students.
The result of the ballot was 323 in favour of raising fees and 302 against.