Search on for memories of life in Rossville Flats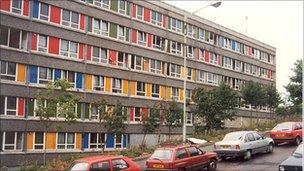 "It was the University of Freedom".
Charlie McMenamin has nothing but happy memories of his time as a resident of Rossville Flats in Derry.
The Bogside tower block stood at the heart of many of the worst incidents of the Troubles. It was knocked down in 1989.
Now a search is under way to track down as many former residents as possible for a reunion and an exhibition to celebrate life in the "High Flats".
But, as Charlie explains, there's no need to wait until next year for the reunion.
"We have a reunion every week," he said.
"Every time I meet my friends, all we talk about is the High Flats.
"There was a lot of hurt, and there were a lot of good people who hung about the flats who went to jail, and some of them were killed during the Troubles, but it was a good place and a good experience."
The flats were built in 1966, and Charlie's grandmother moved in two years later.
"She moved from Nelson Street, which was all two-up, two-down houses with about ten adults living in them.
"Rossville Flats was like moving to the lap of luxury. It had a toilet upstairs and a toilet downstairs that you could flush, and a bath and running hot water all the time.
"Shortly after that the Troubles started, and my Granny was right in the front line.
"She was facing Butcher's Gate, and and everything that happened she was right in the middle of it, but she like most people she tried just to go about her life as normally as possible.
"It was a great community, the people were really friendly and helpful to each other, and they all came from the surrounding streets.
"You could say the flats became a focal point, a microcosm of the Troubles.
"Anything happened in the flats, everybody was out because everybody was in the middle of it.
"As the years went on and the Troubles went on a lot of people were affected.
"Hugh Gilmour who died on Bloody Sunday, he was living in the flats at the time, and we knew all the people who died.
"A lot of the younger people were involved in the rioting in 1968 and 1969, and a lot of people got invoved in politics through all the campaigning that went on in the flats.
"There's a lot of history there."
The flats were demolished in 1989, but Charlie said he has many good memories of his time there.
"The sense of community we had in the High Flats, I would love to have it back again.
"You make a lot of mistakes in life but you don't learn unless you make mistakes, and that's where I made most of my mistakes, in the High Flats."
If you lived in Rossville Flats and would like to add your name to the list, attend the reunion or get involved in the exhibition, contact Mickey Cooper at freederrytours@gmail.com or contact the Gasyard Centre, Derry, on (028) 71262812.