Coroner's call over poisonous gas monitors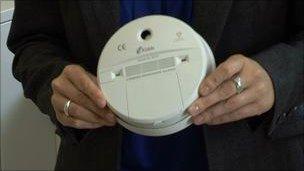 A coroner has urged the Housing Executive to reconsider its policy on carbon monoxide monitors after a series of deaths from gas poisoning.
Brian Sherrard was speaking at an inquest for Isobel Stockman, 79, from Mountcollyer Avenue, Belfast, found dead at her home in October 2005.
She had been overcome by poisonous gas. Mr Sherrard said he was very concerned by a number of deaths.
It's thought five people have died from carbon monoxide fumes since August.
Teenagers Aaron Davidson and Neil McFerran died in Castlerock after gas leaked into a holiday flat.
In November, husband and wife Killian and Pauline Scallon were overcome at their home in Irvinestown.
And it's thought that a Malaysian man found dead in a restaurant in the same village, may also have been overcome with poisonous fumes.
Mr Sherrard said: "The promotion of carbon monoxide detectors in homes is very important and it is something that I would advise the Housing Executive to examine in the coming future."
At the inquest in Belfast on Thursday, Miss Stockman's sister said she had been concerned about her solid fuel fire. She felt it was burning too hot.
A neighbour said she had called with Miss Stockman on the night before her death.
"I could smell a strange smell. I told her to open the windows and she said she already had."
The next morning, Miss Stockman was found lying on her living room floor.
A fire expert told the inquest that the chimney flue had suddenly become blocked by dust and black soot which prevented fumes escaping.
A spokesman for the Northern Ireland Housing Executive said currently it does not install carbon monoxide monitors in properties. But it is reviewing its policy in light of recent deaths. A decision will be made in the New Year.