East Belfast castaways rescued from island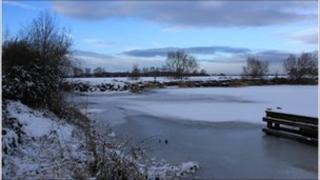 Three teenage boys were marooned on an island in east Belfast when the frozen lake they walked across began to thaw.
The boys had walked out to the island in the grounds of Campbell College on Belmont Road on Thursday.
When they realised the ice covering the lake had begun to melt, they contacted the Northern Ireland Fire and Rescue Service at about 1350 GMT.
Two fire engines from Knock Fire Station and a specialist rescue team were called out to deal with the incident.
The boys were led to safety by members of the specialist rescue team using a 10m inflatable walkway and were safe on dry, if cold, land by about 1437 GMT.
An NIFRS spokesperson urged members of the public to exercise extreme caution and care in the vicinity of frozen lakes, rivers, ponds or streams.
"We strongly advise that no adult or child ventures onto or near the frozen ice no matter how safe or tempting it may appear," the spokesperson said.
"The ice could easily crack or be already starting to thaw and people could fall into the freezing water. Do not put your life or anyone else's life in danger by going onto what appears to be frozen ice."