The Northern Ireland producer behind the Simon's Cat phenomenon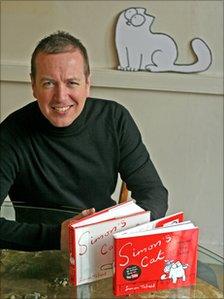 A Northern Ireland animation producer looks set to have another hit on his hands this Christmas.
Mike Bell from Bangor, County Down, is the executive producer of the new Simon's Cat Christmas film Santa Claws which was released at the weekend.
Simon's Cat, for those not in the know, is an internet cartoon featuring a very demanding cat.
Cat owners will instantly recognise the infuriating antics of Simon's pet and sympathise with Simon himself.
Mike, who has also worked on Disney's Tigger Movie and the Jungle Book 2, has been the executive producer of the Simon's Cat project since it began and has helped the series' creator and animator Simon Tofield turn the character into an online phenomenon.
The cartoons have been watched over 100m times on YouTube and have more than 300,000 fans on Facebook.
The curious cat has won numerous awards, been turned into an iTunes app, secured a four-book worldwide publishing deal and inspired a range of merchandise.
Mike, who studied at the University of Ulster School of Art, spent several years as animation director at Dublin's Moving Still Productions and has been an executive producer for the past 12 years, working with Oscar-winning London animation studio Tandem.
Mike said the studio was "overwhelmed" by the response to the Simon's Cat films.
"I think the character is so popular because it's an entirely positive, uplifting piece of entertainment that can be enjoyed by the whole family," he said.
"If you own a cat you'll definitely relate to the observations that Simon Tofield makes in his comedy. Simon has a way of portraying life with a cat through very subtle, observational comedy - and by far the most common reaction that his work receives is 'that's just like my cat'!"
Mike has kept a close eye on how the global success has been received back home in Northern Ireland.
"I've been delighted to hear how popular the character is back home in Northern Ireland. When I visit my parents in Bangor, I've enjoyed dropping in to the newsagents in Ballyholme to spot the stock of books that's always on display," he said.
Discussing what comes next for the project, Mike said the character continues to find new fans.
"From the online activity it's clear that more and more people are discovering the character all the time. Simon would like to develop the character, gently and steadily, over many years to come - and that's something I'm delighted to be helping him with."
Related Internet Links
The BBC is not responsible for the content of external sites.