Pipe bomb attack at Antrim home of PUP's Ken Wilkinson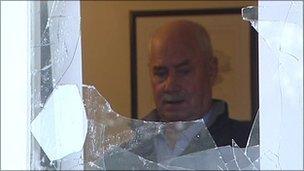 Damage has been caused to the home of Progressive Unionist Party spokesman, Ken Wilkinson, in a pipe bomb attack in Antrim.
The device, which was left on a window sill, went off at 0330 GMT on Sunday.
Mr Wilkinson, who lives alone, said he was lucky he was not injured.
"The front windows were done, there is damage to the inside of the house, the fascia board and soffit on the outside - they will all have to be replaced," he said.
The incident happened in the Milltown Road area of Antrim.
Mr Wilkinson added:"We found a piece of the device 25 to 30 feet from the front of the house so you can guess how strong it was.
"I have been outspoken of late against certain incidents in the Antrim area and also on the issue of drugs, if people think this is their way of quietening me down, they have made a big mistake."
Justice Minister David Ford, who is an assembly member for South Antrim, said there had been a number of similar incidents in the town recently and that they "must end".
"They are achieving nothing except to bring disruption and misery to the streets on Antrim," he added.
"The local population is extremely worried where the next in this series of pipe bomb attacks is going to happen."