Four in hospital after lake fall at Lurgan Park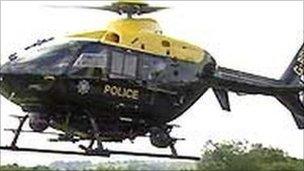 Four people have been taken to hospital after a man fell through the ice at a lake in Lurgan Park prompting a rescue operation.
It was reported to police at 1400 GMT that a man in his 40s had fallen through the ice. He is in a serious condition.
Using the police helicopter, officers managed to hoist the man from the water onto the ice.
But as other emergency services tried to reach him in a boat, it capsized.
Police said two fire service officers and a paramedic fell into the water as a result.
Two of the emergency service staff swam ashore and one was rescued by the Fire Service special rescue team. They were later taken to hospital.
The man in his 40s, who was the focus of the initial rescue operation, was brought to shore and tended to by paramedics and an off duty doctor who had been in the area at the time.
He was transferred to hospital by the coastguard helicopter.