£53m critical care building opens at Ulster Hospital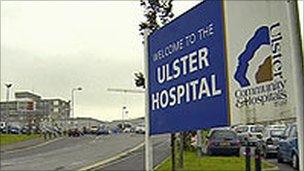 A new £53m critical care building has been officially opened at the Ulster Hospital.
Health Minister Michael McGimpsey attended a special ceremony at the new complex in Dundonald on Monday morning.
He described the multi-million pound building as one of the most technologically advanced medical facilities in the UK.
The facility opened to patients last month.
Speaking at the official opening Mr McGimpsey said: "Patients will be treated by highly skilled teams working in the most modern, state of the art operating theatres available.
"Post operative recovery and intensive care will be provided in a purpose-built environment designed for maximum efficiency.
"No-one could fail to be impressed by the quality of the new facility and in particular, I want to thank staff for their continued professionalism and dedication to enhancing the experience for patients and improving clinical outcomes."
The new critical care building is part of a redevelopment programme at the Ulster Hospital. It took over three years to complete and cost £53m.
The Health Minister labelled the unit as the "most advanced department in Ireland", with services including operating theatres, intensive care, laboratories and sterile services.