A5 plan 'must be reviewed' - Joe Costello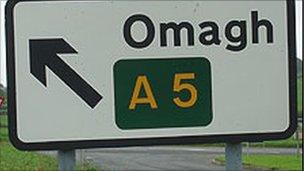 An Irish Labour Party TD has said the Irish government's contribution to the A5 dual carriageway from Londonderry to Aughnacloy must be reviewed given the country's economic difficulties.
Joe Costello also said there was a "question mark" over the Republic's ability to build the road from Aughnacloy to Dublin.
His comments have been criticised by Sinn Fein and the SDLP.
Construction on the A5 is due to begin in 2012.
The project is subject to finance and the outcome of a public inquiry in 2011.
Mr Costello said that if the Labour Party is in government, it will "look at all major schemes and review them in terms of their capital costs and the cost-benefit analysis to the economy and job creation".
"Already major projects are tumbling in my own constituency, and in that context we cannot exempt any project.
"I am not saying we will abandon the project, but it will have to be reviewed very carefully considering the financial straits we are in at this present time."
But the West Tyrone MP, Pat Doherty from Sinn Fein, said it was vital the road goes ahead.
"This project is part of the agreement that was reached at St Andrews, and it is a fundamental point that this was an agreement by two governments and the new executive in terms of infrastructure linking the north and south.
"This road will service all of County Donegal, and historically the north west has been underfunded and neglected, and there is also the serious issue of improving on road safety.
"This is one of the projects which will start to address this.
Foyle SDLP MLA Pól Callaghan said the A5 must be a "priority" for the Northern Ireland Executive.
"It is not only of benefit to the north, but the entire northwest of the island, bringing a clear corridor of traffic, business and investment from Dublin to Derry and Donegal.
"This road is vital to the future economic investment of all the north western counties, including Derry, Donegal and Tyrone which are amongst the most disadvantaged on our island.
"There are also major road safety reasons for the upgrade not to mention the boost to the hard-pressed construction industry for the major building phase.
"Economic growth is the only credible way out of the current recession and stemming that growth by not completing the A5 would have disastrous consequences for the future economic recovery of the entire north west of Ireland."
Representatives from the SDLP and Sinn Fein are to meet Mr Costello this week.
Related Internet Links
The BBC is not responsible for the content of external sites.