£150K 'winding up' allowance paid to former MLAs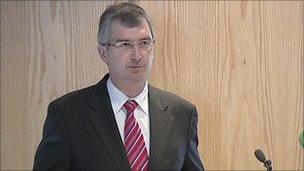 The Ulster Unionist leader Tom Elliott has called for a review of the process for paying the allowance MLAs receive when they resign.
More than £150,000 in outstanding expenses has been paid to the 12 MLAs who have stood down from the Assembly over the past two years.
Seven were from the DUP - including six of the party's MPs.
Mr Elliott said he was raising the issue after the DUP indicated some of those who resigned, might stand again.
The so-called winding up allowance can only be claimed for actual receipted expenditure up to a maximum of £16,000.
Six MLAs received more than £15,000 with the largest payment going to the DUP's Jeffrey Donaldson who got £15,949.
The smallest payment was to the former SDLP leader Mark Durkan who received just over £4,500.
The details came in response to a question from the Ulster Unionist leader who said he was concerned by a suggestion that some members who recently stood down from the Assembly may be coming back.
"This calls into question the credibility of this process. While it is quite normal for the winding up allowance to be paid -- it would make a mockery of it if they were to come back and stand again within six months," he said.
"The criteria needs to be changed so it can only be paid once within a defined period -say within five years."
A DUP spokesman said: "Not one penny piece of resettlement allowance goes to the MLA.
"It is to meet staff stationery, electricity, rent and other office running costs incurred.
"Where contracts are broken costs must be met. All representatives tried to keep these costs to a minimum. The same rules govern all parties in the same way."
Related Internet Links
The BBC is not responsible for the content of external sites.