Lottery gives £10m to tackle alcohol abuse in NI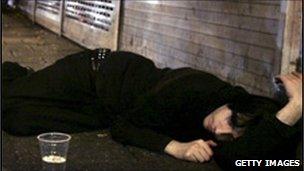 The National Lottery has donated £10m to help fight alcohol abuse in Northern Ireland.
The funding will be used to boost the Impact of Alcohol Programme, which aims to help individuals and their families overcome their issues.
A budget of £3m will be provided to nation-wide projects organised by voluntary and community groups.
A further £7m will be given to the five health and social care trusts to work with organisations in their area.
Chairman of the Big Lottery Fund in Northern Ireland, Frank Hewitt, said the money will help tackle the huge problem of alcohol abuse across the country.
He added: "Northern Ireland has a higher proportion of adults who exceed their recommended daily limit for alcohol than in the rest of the UK, and alcohol related deaths in Northern Ireland are higher for both men and women.
"The Big Lottery Fund wants to work with the Health and Social Care Trusts and the Public Health Agency in Northern Ireland to ensure that we build on existing experience and expertise in this area.
"We want to use this funding to tackle the issues caused by alcohol misuse both regionally and locally in Northern Ireland."
Alan Leckey from Dungannon, Country Tyrone said the funding will help transform the lives of alcoholics and their families.
The 57-year-old almost lost his life because of alcohol misuse.
He said: "I had a carry out every day and I would wake up every morning and start drinking from a bottle of spirits. But my lifestyle meant I lost everything.
"Over the years I was in and out of hospital and I overdosed a number of times because I had gotten so down, but that didn't stop me drinking."
"Then I started going to the NIAMH's Beacon Centre in Dungannon, and I realised that I had something to live for."
The Public Health Agency said alcohol misuse costs tax-payers more than £680m a year because so much is spent on healthcare, policing, probation and prison services.