Son pleaded with murdered dad not to die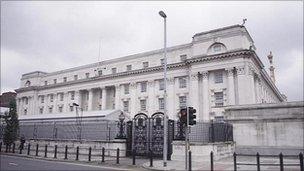 The son of a murder victim pleaded with his father to "stay with us" as he lay dying on a street, a court heard on Monday.
Kevin Hughes, 26, recalled Eamon Hughes' final moments at the no-jury Diplock trial of four men accused of his murder at Belfast Crown Court.
He said he ran up to his father and saw "the slice on his chest" before pleading with him to stay alive.
All four defendants deny murdering Mr Hughes on 14 September 2008.
Dungannon men Martin Murray, 23, from Windmill Drive, his cousin Liam Murray, 24, from Windmill Court, Kevin Toye, 24, also from Windmill Court, as well as 25-year-old William McDonagh from Kew Gardens in Ballymena also deny attempting to murder Martina Donaghy and her daughter Emma as they tried to help Eamon Hughes.
Kevin Murray, 41, from Lisnahull Gardens, also Dungannon and who is an uncle to the other two Murrays, denies attempting to murder Kevin Hughes after he allegedly shot him with a crossbow bolt.
Mr Hughes Snr was stabbed once through the heart as he walked back to the family home in the Lisnahull estate after celebrating his daughter's 18th birthday.
According to the Crown case, Martin Murray was the knifeman and Mr Toye was the driver of the hijacked taxi which ran over the mother and daughter.
Kevin Hughes told the court that said there was some animosity between him and the Murray family after one of them allegedly smashed the windows of his car.
As his family walked home from the party, Mr Hughes said that a taxi pulled up and the two Murrays got out.
Mr Hughes claimed he could see a three inch knife being waved about by Martin Murray, who allegedly threatened to stab the witness.
Prosecuting QC Terence Mooney asked what happened next and Mr Hughes said, "I never took my eyes off Martin Murray because he had a knife" but that Liam Murray was edging closer and so he chased him away to a grassy area.
After Liam Murray jumped back into the taxi, it drove off but turned. Mr Hughes added: "I seen the car coming past me and sort of swerving to the left and hitting Martina and Emma and driving on.
"I seen my father lying on the ground and Martina just up above him a wee bit and on up was Emma."
Mr Mooney asked him what he was confronted with and Mr Hughes replied: "I seen my father lying on the ground with his shirt open. I seen the slice on his chest and I knew he had been stabbed.
"I just told him to hang in there and mentioned my two girls' names to him, said that they need you, hang in there, keep with us."
He told the court he knew that Kevin Murray lived nearby so he ran to his house, picking up an iron bar on the way before smashing the living room windows.
As he ran back to where his father and the Donaghy women lay, Mr Hughes told the court he met a friend who shouted a warning to him to "watch my back" and when he turned around, he saw Kevin Murray "pointing a crossbow at me".