NI house prices will drop further says RICS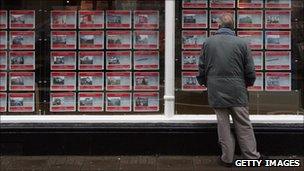 House prices in Northern Ireland will continue to fall next year, according to a survey by the Royal Institution of Chartered Surveyors.
A report by RICS and Ulster Bank show prices are expected to go down during December and into January and February 2011.
High unemployment and imminent budget cuts are to blame, according to RICS.
It has called on the NI Assembly to finalise a budget in order to halt the downward trend.
The survey also found that transaction volumes, which are already at historically low levels, will drop further next year.
RICS housing spokesman, Tom McClelland said: "We are all well aware of the factors that have been impacting on the local housing market, including rising unemployment, the fear of public spending cuts, and uncertainty linked to events in the Republic of Ireland.
"The recent freezing weather will only have acted to further deter all but the most eager buyers for now."
The survey's price balance, stands at minus 67 - the lowest level since November 2008. This figure is calculated by deducting the number of chartered surveyors who say prices have dropped in the past three months from those who say prices have increased.
Mr McClelland said the housing market could be helped if the Executive agreed a budget.
"Many people currently fear the worst from the budget, but indications suggest that public sector job losses might not be as significant as first thought and that there might be more money available for day-to-day spending than originally expected," he said.
Derek Wilson, head of lending products at Ulster Bank, said that although prices have dropped, demand from first time buyers is still strong.