£850,000 to kickstart use of electric cars in NI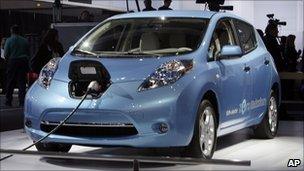 Northern Ireland has been awarded more than £850,000 for a pilot project to kick start the use of electric cars.
Charging points for electric cars will be put in place in Belfast, Londonderry, Newry, Armagh, Enniskillen and Larne.
There will be more on major roads throughout Northern Ireland. Work is due to begin in April 2011.
Minister for Regional Development Conor Murphy said it was exciting news for the economy and the environment.
Department of the Environment minister Edwin Poots said electric cars would cut down on carbon emissions and offered an important alternative to fossil fuel powered travel.
The funding was awarded by the Office for Low Emission Vehicles - the joint bid was made by the DRD and DoE.
Meanwhile, details have been released of the first nine electric cars that will be eligible for grants of up to £5,000 in a government subsidy scheme.
Under the £43m initiative that starts on 1 January, buyers will get a 25% discount up to the maximum £5,000.
However, only three of the nine cars will be immediately ready for delivery, with others following as late as 2012.
Of the nine electric cars so far confirmed as qualifying for the subsidy scheme, the three that will be available for delivery in January are the Mitsubishi i-MiEV, the Smart fortwo electric drive and the Peugeot iOn.
The Mitsubishi is being advertised for sale from £24,000, after the £5,000 government grant. The Smart and the Peugeot electric cars will initially only be available through four-year leases.
The Nissan Leaf and Tata Vista will then follow in March, while the Citroen CZero is currently only confirmed for "early 2011".
The Vauxhall Ampera, Toyota Prius Plug-in Hybrid, and Chevrolet Volt are due to see their first UK deliveries in early 2012.