Londonderry couple 's victory on sham wedding law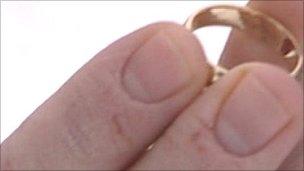 A Londonderry couple have won £24,000 in damages and costs after a European Court ruled that UK law breached their right to marry and enjoy religious freedom.
Judges at Strasbourg's Court of Human Rights said they had "grave concerns" about the UK law designed to stop sham marriages.
Nigerian national Osita Chris Iwu and his wife, Sinead O'Donoghue met in Derry in 2004. They wanted to marry.
But they were blocked by UK rules.
They had to seek special permission to marry under the Home Office approval scheme. The only exemption was for people who married in the Church of England. But Mr Iwo, as a Catholic, did not wish to do this.
Under the scheme in operation when the couple first applied, only foreign nationals with permission to stay in the UK for more than six months and with more than three months of the period remaining, could qualify. This did not include Mr Iwu.
Home Office rules were amended after the House of Lords 2006 ruling that the scheme interfered with people's human right to marry.
The couple married in 2008. Their friends paid the certification fee of £295 for them because Mr Iwu was not entitled to work and could not afford it.
On Tuesday, the European Court of Human Rights said the UK was entitled to set "reasonable" conditions to weed out marriages of convenience.
But the seven judges said they had "grave concerns" about the UK rules.
They pointed to the lack of any apparent requirement to give information demonstrating the authenticity of a proposed marriage.
They criticised the fee "fixed at a level which a needy applicant could not afford" and said the very requirement to pay a fee was "a powerful disincentive to marriage".
The exemption offered exclusively to those marrying in the Church of England was not "reasonably or objectively justified," they said.
The court ordered the Government to pay £7,200 damages, £13,600 in costs and an extra £295, the price of the couple's certificate.