Belfast asks 'Where were the girls?'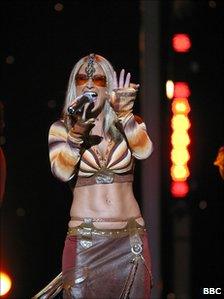 Northern Ireland music fans were left disappointed last night when the Here Come the Girls Show at the Odyssey Arena in Belfast was cancelled.
Singer Anastasia was taken ill shortly after arriving in Belfast earlier on Monday.
After a doctor was called the decision was taken to cancel the show.
Anastasia was due to perform alongside pop royalty Lulu and British soul singer Heather Small.
The show was called off about an hour before the performers were due on stage.
Concert-goers were left disappointed at the last-minute cancellation.
One man who spoke to the BBC was visiting Northern Ireland and turned up to see the show only to be turned away.
"We were over here for a couple of days and we bought the tickets 45 minutes ago and we just got here when they said "nope"" he said.
For some ticket-holders, this was the second time they had paid for the show only to have it called off.
"We've travelled up here from Enniskillen, we're very disappointed because we only heard on the radio just after seven and what makes it doubly disappointing is that a similar thing happened last year, it was cancelled because of the bad weather," said one concert-goer.
"Two years running, two years in a row, I'm not going to see them again. If they try to come back again we'll not bother," said another.
Rob Vicks marketing director for the Odyssey Arena said that the concert promoters would not have taken the decision to cancel lightly.
"It's very unfortunate, particularly as it was the final night of the tour. When you have three performers who may have a number of solos and an integral part to play in the show, it becomes a difficult decision, and it may not have been possible production-wise to continue with only two stars," he said.
Mr Vicks said that as soon as the decision to cancel was made, staff at the Odyssey began communicating that information to the public.
"Our staff did a good job getting the word out. We handed out leaflets, stewards informed people queuing and we contacted radio and television stations about the cancellation," he said.
In a statement released last night Anastasia, Lulu, Heather and the promoters apologised to their fans for any inconvenience caused by the decision.
Ticket holders are entitled to full refunds from the point of purchase.
Related Internet Links
The BBC is not responsible for the content of external sites.