Northern Ireland Water needs to cut costs by 40%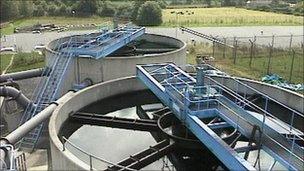 Northern Ireland Water needs to improve its operational efficency by 40% to match other water companies in Britain, according to a new report.
The Utility Regulator carried out an independent assessment of the company after its first three years.
It compared the company's performance with other UK water companies.
The report found that, while progress has been made, more needed to be done to ensure consumers receive value for money services.
Chief Executive of the Utility Regulator, Iain Osborne, said that the cost and performance report on NI Water measured how well efficiency targets were being met, the quality of service provided and the company's financial performance.
"Our independent assessment is that NI Water has achieved real progress in its first three years of operation," he said.
He added that the company had met its efficiency targets for the years 2007 - 2010 and delivered the highest ever drinking water quality in 2009.
However, the report found that while the operational efficiency gap between NI Water and English and Welsh companies had been reduced, a 40% reduction in costs was still needed.
Welcoming the report, Ronan Larkin the director of finance and economic regulation at NI Water said the company was "determined to continue to close the gap which exists between it and water companies elsewhere".
"What we are doing at NI Water is closing a gap which has been greater than 20 years in the making," he said.
"No one within NI Water underestimates the challenges that lie ahead particularly within a difficult economic environment, but we believe that working with the regulator and other stakeholders we can build on the solid foundations already laid."
Related Internet Links
The BBC is not responsible for the content of external sites.