Finance department security contractor 'lapse' probe
By Conor Spackman
BBC News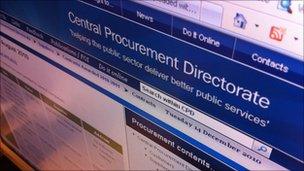 The Department of Finance has pledged a review after it was criticised for publishing the names and addresses of civilian security contractors online.
The details included those of a contractor who is due to repair damage caused by the Newry court house bomb.
The department has removed the information following inquiries by the BBC.
Civilian security contractors were repeatedly targeted by republicans during the Troubles.
In January 1992, eight Protestant civilians, who had been working at a British Army base in Omagh, were killed in an IRA landmine attack on their van at Teebane near Cookstown.
The information, including the names and addresses of all businesses which have won tenders to provide work for the Department of Justice, was published on the Central Procurement Directorate website.
The Department of Finance has been criticised by the North Antrim MP, Ian Paisley Junior, who said it was potentially a major security lapse.
"I hope that government departments will recognise that this constant pursuit of so-called freedom of information, unless it is properly balanced, leads to so much information being out there that it endangers people's lives.
"This is information that the public does not need to know."
In a statement, the department said that the website published the names of suppliers "in the interests of openness and transparency".
However, it added that following an enquiry from the Newry court house contractor it had "decided to temporarily remove all details of Department of Justice related contracts from the website until a review of the policy is carried out."
Related Internet Links
The BBC is not responsible for the content of external sites.