McConville inquest witnesses seek anonymity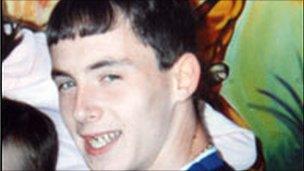 The preliminary inquiry into the death of a man shot by the PSNI near Lisburn in April 2003 has got under way.
Neil McConville, 21, was killed as he tried to evade police in a car.
The preliminary hearing at Belfast Coroner's Court on Tuesday heard that out of 30 witnesses, 13 will apply for anonymity.
The solicitor for the family had asked for all the documentation pertaining to the ombudsman's investigation to be handed over.
Counsel for the police chief constable said that only information which is relevant and the coroner deems appropriate should be handed over.
The coroner is taking more time to think about this and more detail will be given in the new year.
In August, a lawyer for Mr McConville's family had criticised the police for holding up the inquest.
An investigation by the Police Ombudsman found police were justified in opening fire.