Chip shop owner Alfredo Fusco 'shot through door'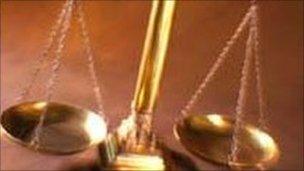 A court has heard how a murdered Catholic chip shop owner tried to barricade himself in a storeroom during a gun attack.
Robert James Clarke, 58, from Dundrod Road in Nutts Corner is on trial for the murder of 53-year-old Alfredo Fusco in north Belfast in February 1973.
On Tuesday, a retired police officer said he believed Mr Fusco had tried to hide behind a closed door.
He added that he believed a shot through the door hit him in the head.
Robert Clarke, who denies murder, claims he could not shoot a gun after losing two fingers in an industrial accident years earlier.
However, the court has also heard that he was later convicted of the murder of Margaret O'Neill on the New Lodge Road in 1975.
Retired chief inspector Alan McCrum described to the court how he found Mr Fusco's body, slumped behind the store room door at the back of the shop.
The retired RUC scenes of crime officer said that he found two 9mm live rounds of ammunition outside the door, while he noticed one bullet hole and a further strike mark on the door caused by a .45 round.
Reading from a report made at the time, Mr McCrum said he had formed the opinion that Mr Fusco had been "against this door in an effort to keep it closed and was probably in a crouched position so not to be seen through the glass panel in the upper half of the door".
"In my opinion," he read, "of the two shots fired through the door, one struck Mr Fusco in the head and passed through the skull and landed on the floor.
"Possibily after this, the assassin forced the door sufficiently open to fire a shot into Mr Fusco's back as he lay prostrate on the floor".
Prosecuting QC Gordon Kerr claimed that Robert Clarke, armed with a Sterling sub machinegun, was one of the two gunmen Mr Fusco fled after he had "guessed correctly that they were coming after him".
As Mr Fusco tried to wedge himself up against the door of the store, the sub machinegun jammed twice and Clarke "returned to his accomplice and exchanged the sub machinegun for the revolver and ran back and fired the revolver through the door".
The Diplock trial has already heard that Robert Clarke was arrested last year after finger and palm prints found on the store room door were identified as his.
The case had been reviewed by the Historical Inquiries Team.
Following his arrest in August last year, Clarke claimed that at the time he had worked as a "door hanger" although he accepted he had not worked in the north Belfast or York Road area.
Mr Kerr said that while Clarke could not explain how his prints got on the door, he maintained he had not shot Mr Fusco.