Killer disease found in another NI forest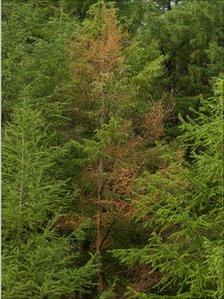 A deadly tree disease has been found in Glenariff Forest Park in County Antrim.
The Northern Ireland Forestry Service confirmed P. ramorum, popularly known as Sudden Oak Death, was discovered in several Japanese larch trees.
It is the seventh location where the disease has been discovered in Northern Ireland.
The first outbreak was confirmed in a private woodland near the village of Broughshane in August.
However, it is thought that the disease had been killing trees in Woodburn Forest, near Carrickfergus, a year earlier but was not spotted.
The latest outbreak was only confirmed after a helicopter survey of all forests in Northern Ireland in autumn.
Searching for larch trees that looked unusual, a stand of trees was discovered in Glenariff that seemed browner than expected.
Exploration on foot and subsequent laboratory tests eventually confirmed the disease was present. The infected trees will now be felled to prevent the disease from spreading further.
Wednesday also saw the first of the diseased larch trees felled in Woodburn Forest removed to a timber yard in County Fermanagh.
The work has to be done under strict bio security to ensure that none of the fungus nor bits of diseased trees can spread the disease during the road journey.
Once at the saw mills, the bark will be removed and burnt along with any off cuts.
After that the remaining timber is considered to be safe enough to be used in a normal manner.